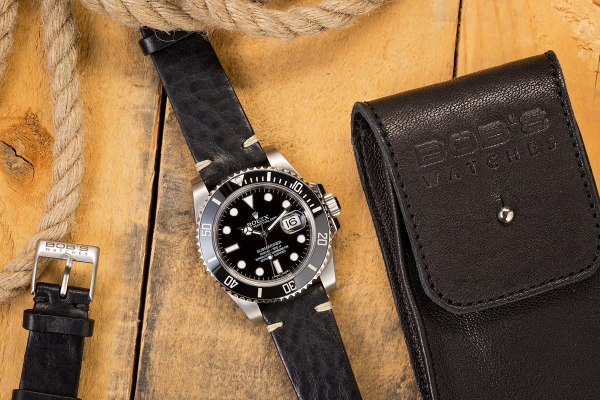 The Rolex Submariner watch is a classic watch with a water-resistant depth of 100 meters. Rolex has been manufacturing these watches with different kinds of bracelets ranging from metal, leather, and rubber with different colors from gold, silver, blue, turquoise, green or yellow. All these straps and their colors are meant to add aesthetic value and class to anyone wearing them for any occasion. To fulfill their customer's demand for their wristwatch beauty, Rolex manufactured different kinds of bracelets. 
These are the Rolex Oyster bracelet, Rolex Jubilee bracelet, Rolex President bracelet, Rolex Integrated bracelet, the Pearlmaster bracelet, Rolex Leather strap, and the Rolex Oysterflex bracelet. All these bracelets fit on different brands of Rolex watches of which the focus will be on the Submariner Rolex watch.
The Rolex Submariner watch is a kind of divers watch that originally is sold with a steel bracelet, but now, a variety with yellow gold, or ceramic rubber strap with unique colors to accentuate its grade. Nowadays, an assortment of Rolex straps are available ranging from NATO, military, rubber, and mesh bands of different colors are catching people's eyes to want to accessorize them. An important aspect of buying extra straps for watches comes with benefits, most importantly, the ability to give the watch a new look or personality changes the game completely.
For the Rolex Submariner watches, ceramic rubber straps made by Everest have become popular coming with a variety of colors. This Rolex Submariner strap is of great quality, comfort, increase durability by preventing scratches, and there is an increased variety of these bands to mix and match.
On the point of mix and matching, the ability to change straps to fit any occasion gives an edge to accessorize any attire giving the Submariner a new personality every time for there are a variety of colors of ceramic rubber straps to choose from. The rubber straps prevent scratches on you Rolex Submariner does not scratch off any surface it is rubbed against and the metal bracelets shelf-life is increased not being exposed to damage. 
The Rolex Submariner watch comes with the Oyster bracelet made from steel which is obviously hard. A switch from steel to rubber gives it a comfortable feel around the wrist and reducing its weight. Rubber straps are soft too. The ceramic rubber straps are manufactured from durable material that can withstand all weather elements from icy temperatures to blazing hot and rough environments.
These Everest bands are immensely prevalent with people because they are a precise fit for the Submariner Rolex model. The Rolex Submariner straps made by Everest have curved ends that meet the face case flawlessly giving it a look that the Submariner was manufactured with the Everest rubber strap. The straps perfectly integrate themselves into the case and lugs not producing any rattle. These straps are also made in Switzerland just as the Submariner Rolex watch. Just and the Swiss watchmakers do not compromise on the quality and precision of their watches, so do Everest bands not compromise the quality of the watch strap. They are of high quality, extremely comfortable to wear and long-lasting. 
It is superfluous to repeat of their quality, but they are resistant to excessive heat and icy temperatures, they do not stretch, tear, get damaged by chemicals, abrasion, stains, or get marred by dirt or dust. These straps keep their luster over time. Unlike the metal bracelet that one needs to remove links to fit small wrists, Everest bands easily adjust any wrist hand. The best wrist band for any occasion!