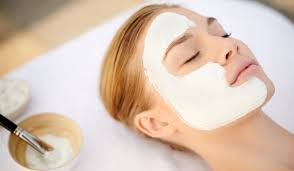 Dreaming of beautiful skin, healthy and pleasant to the touch? This means that you need to carefully take care of the delicate dermis, regularly cleanse and stimulate the regeneration processes in the skin and provide the tissues with full hydration and nutrition. "Update" Spa program at spa centers will give an unforgettable experience, allowing each muscle of the body to relax and take a break from daily stress during the procedure. After it, your skin will look fresh and renewed!
Upgrade Procedures Deliver True Pleasure
Body peeling
A scrub is applied to a moisturized body. Thanks to its unique composition, it delicately removes dead skin particles from the surface of the skin, giving oxygen access to young cells. Masters combine scrubbing with a light massage, which several times enhances its effectiveness. Abrasive particles actively eliminate all impurities, making the skin smooth and velvety.
Duration: 30 minutes.
Herbal Wrap
Herbs have unique properties. It is not surprising that they are used for many cosmetic procedures. Herbal wrap helps relieve puffiness, renew and restore skin epithelium, soothe and tone the dermis.
Duration: 30 minutes.
Oil massage
After massage procedures with aromatic oils you will feel an unprecedented surge of strength and vigor. Each movement of the wizard's hands will make all systems and each organ work correctly. Oils are rich in valuable substances that nourish the skin, improve its color and even out the structure.
The first thing that reflects environmental and weather factors, as well as our bad habits, is facial skin. Dust, ultraviolet, changes in humidity and temperature, nicotine and high-calorie foods – there are many risks. To protect themselves from them and preserve the beauty will help spa treatments.
The procedure includes
Make-up remover
Facial scrub
Face lotion
Mask
The procedure includes
Aroma oil massage with frangipani oil 60 minutes
Body Wrap 30 minutes (mask with frangipani)
Express facial for 20 minutes (cleansing, facial massage)
Head massage 10 minutes
According to the traditions of Thailand and other Asian countries, foot massage is one of the most effective ways of healing the body. On the feet there are a huge number of biologically active points that are responsible for the work of all internal organs. Everything in our body is interconnected, and often the discomfort in one part of the body can be relieved, by stimulating the other. Therefore, the SPA ritual for the feet is not only a pleasant, but also a very useful procedure.
Face massage
SPA facial treatments are carried out in our salons using natural cosmetics. Created from the gifts of Thai nature, it very carefully rids the skin of pollution and keratinized particles, free pores, saturate with moisture and useful elements, and also create the thinnest protective film. Peeling, masks, aromatherapy … These and other procedures can save and enhance your beauty, and at the same time give wonderful minutes of relaxation and cheer up.